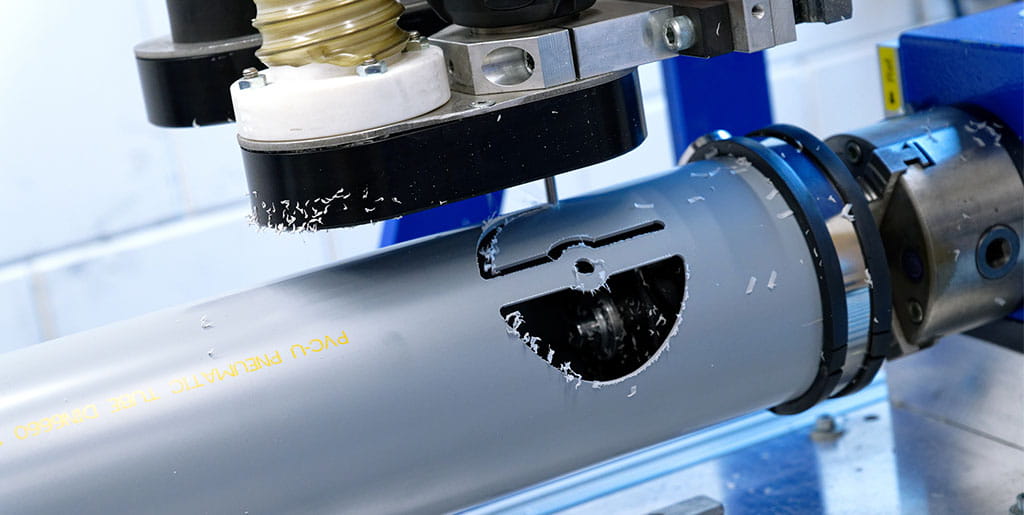 There is a solution for every pipe system problem: us here
---
CNC pipe fittings
The CNC pipe fittings program completes the pipe fabrication. The CNC controlled and manual machines are used for milling, turning, welding and gluing. Here we can also produce in small and large series. From DN 50 to DN 400 and from 0.3 m to 2.0 m, pipe fittings in PVC, PE, PP, PC/ABS and PMMA are processed. With the latest technology, we are digitally networked with our customers, the construction, the programming and the CNC processing machines.
Processing type
CNC milling, turning, welding, gluing
Materials
PVC, PE, PP, PC/ABS, PMMA
Diameter
50 - 400 mm
Length
0,3 - 2 m
Our solution for your need
1
Needs analysis
Together with our team of experts, your CNC pipe fittings project will be examined in detail for feasibility. The range of services includes:
Machining method: CNC milling, turning, welding, gluing
Material: PVC, PE, PP, PC/ABS, PMMA
Diameter: DN 50 to DN 400
Lengths: 0,3 m to 2 m
2
Service
In addition to a meaningful offer, we individually design a 2D/3D drawing or further a sample for acceptance.
3
Production process
A wide range of state-of-the-art CNC machining equipment enables us to respond individually to the pipe fittings. A specially trained team ensures consistent and high quality.
4
Logistics
A warehouse area of 10.000 sqm offers the possibility to optimally store blanks and finished products. Excellent logistics and packaging solutions enable delivery individually according to customer requirements.
Contact