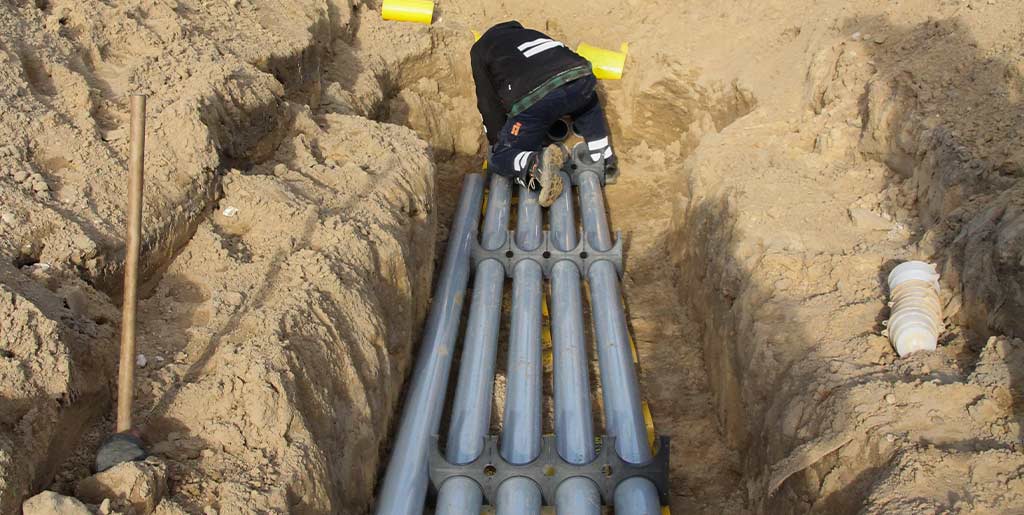 Cable Protection - Strengths, Benefits, Services
---
Cable Protection
With the increasing digitization and the permanent evolution of the energy and communication network, cable protection has become one of our main business areas over the years. Especially in the demanding environment of underground line construction, proven know-how is required in order to be able to guarantee a permanent protection against external loads. We offer a wide range of cable protection programs for the laying of media-conducting cables, such as electricity and telecommunications cables in the open ditch.

Our experts are at your disposal.
Areas of application
A stable energy supply is an indispensable part of our infrastructure. KURO's contribution to securing and expanding the electricity industry are particularly durable and corrosion-resistant tubes and molded parts for mechanical protection against external influences for underground supply networks in cable underground line construction.
Our cities are growing and with them the complexity of traffic control and security systems. Those who are responsible for infrastructure tasks of this size and reach are well advised long term with our range of cable protection tubes, bends and accessories.
Data protection is a big issue and still with lots of gray areas and is causing a stir. One thing is certain: As long as KURO cable ducts are in use, there will be no data leaks, at least from a purely mechanical point of view, because they stand for the highest mechanical protection in buried and trenched telecommunication and television cables (copper technology).
Our products in daily use